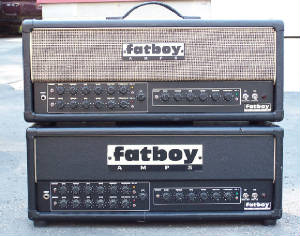 Top #125 (later post-Norb), Bottom #25 (Early Norb Funk built)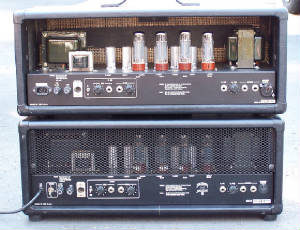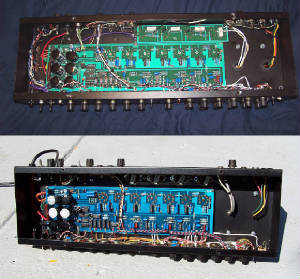 What are the differences between the Chicago Norb Funk-built amps (first 50 or so) and the later ones? Well, there are some minor differences between these two, #25 and #125. Cosmetic-wise, the #25 had a lexan logo, and #125 has a silkscreened metal logo. #125 also has a basketweave front panel, #25 front panel is tolex. The pilot lights are different on the front. Also the chassis silkscreening is white on #25, and cream colored on #125.

Onto the back, we see that #25 has a Tube Amplifier Specialists logo on the back, and #125 does not have this logo. #25 has a permanently mounted cord and ground switch, while #125 has a removable computer style cord. #25 has a perforated steel grate on the back of the amp, while #125 does not have this grate.


The innards differ a bit as well. Both circuit boards are pretty much identical, both are of the same beefy thickness with plated thru holes, though #25 uses a blue coated board, and #125 has a green coated board. The components on the board look to be identical, though. The wiring on #25 is a bit more tidy than #125. The main difference is that #25 has hand wired power tube sockets, while on #125 they are mounted to a separate PCB. The transformers on #25 look slightly larger than #125.


Very special thanks to my friend Lon Erickson for loaning me Fatboy #25 for these comparison pictures!